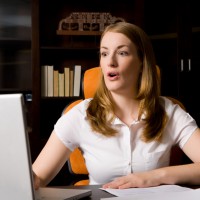 In the first half of 2011, a study from enterprise security firm Blue Coat shows that nearly 40% of all malware incidents were initiated through search engines and portals. Protect your family from threats by following these five steps to safer web search:
#1 Trust but Verify
In their quest to provide an answer to literally any query entered by a user, search engines include literally billions of pages in their index.  Unfortunately, some of those pages aren't of the highest quality.  In fact, some are down right scams.  So before you or your family members click on any links offered in search pages, check to see what URL you are being sent to.  (The URL is typically the green text in the search results).  Ask basic questions:  is this a site I've heard of?  Is this a brand I'm familiar with?  If not, proceed with caution.
#2 Get Involved
The reality of today's online world is that with all of the social media tools available online, everyone has a voice.  And silence is the friend of the scam-artists.  So if you see a shady site show up as a search result, don't keep it to yourself.  Share a warning with friends, family, followers, etc. through one of the many social media services (twitter, facebook, blogs, etc.)  Search engines monitor these outlets very closely.  If you're feeling especially motivated, some search engines allow users to both flag shady sites and tag good sites, so they can make the engine safer for everyone.  Bottom line is, like everything else, the best way to solve a problem is to roll up your sleeves and get involved.
#3 Ask the Experts
With all the information available online, it can be really difficulty to tell what's accurate information and what's just flat out BS.  Just because a site shows up on the first page of a search result doesn't mean it's reputable.  Too much gaming goes on with search engines behind the scenes to rely solely on their judgment.  For subjects like health, finance, etc., accessing the reliable information is more important than ever.  So don't just rely on your search engine, talk to experts.  Your doctor knows the best sites online for accurate medical information, trust his judgment and search those sites for health information.  Similarly, in other areas, there are experts that know the most reliable sites out their for their field, for example blekko.
#4 Keep a Close Eye Out for Search Ads
On most search engines it can be tough to identify what is paid for advertising and what are the organic search results.  On most engines, the ads typically appear at the top of the search results and in the right hand column of the search result page.  Government regulations require search engines to segregate ads from the organic results, so often times they have different background shading and are labeled as sponsored.   This is not to say that all search advertising is unsafe.  Many reputable companies advertise through search engines every day.  But as a parent, knowing whether you are clicking on an ad or an organic result is a nice proxy to tell you whether or not the site you are going to is paying to have you visit it.
#5 Be careful what you search
One of the most common ways people get in trouble with search results is because of the query that they type.  For instance, a search for the term "Honolulu hotels" will bring up one set of results, while a search for "Honnolulu hotels" will bring up a different set of results.  While search engines typically will try to cure these type of typos, misspellings, etc. with a suggested query (a "Did you Mean"), these suggestions often go unnoticed.  Scammers target search engines so their results will show up highly for common typos and misspellings of various search terms.  So to be safe, watch what you type and keep an eye out for did you mean suggestions.