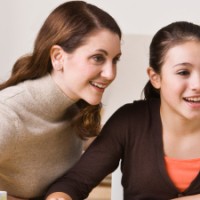 If you're like me, your kid sees you checking your email at least 100 times a day on your smartphone, laptop, iPad, you name it. So when she comes asking to set up her own email account, how can you say no?
As the parent, of course, you always reserve the right to say no "just because I said so." But, if you think your kid might be ready for the responsibility of email, here are five signs to look for – or things to be sure to cover before you bless this milestone event.
She knows that a real lawyer in Europe or prince from Nigeria is never going to actually email her asking for help. In other words, she gets that there are email scams galore out there and knows how to spot one from a mile away.
She knows never to share personal information over email. The big ones here are Social Security number, credit card information, and bank account information.
She knows not to click on links in strange emails that appear to come from her bank. You've clearly explained what a phishing scam is (when crooks pretend to be a business you are affiliated with and send you an email asking for account passwords or other information). She understands that a legitimate company will never ask her for her password or account information via email.
She understands that anything sent via email could end up in someone else's hands. In other words, if she talks about certain classmates or teachers to a friend, those classmates and teachers will easily end up seeing what she wrote. Save her the embarrassment now.
She understands not to ever forward emails that expose others' email addresses. She really shouldn't forward emails at all, unless they're clearly from family or friends and about pretty non-controversial, non-personal or benign issues. The chronic email forwarder is not only annoying, but often puts others at risk by exposing their email address to all sorts of people and potentially forwarding something that is spammy and suspect.
She knows not to open attachments from people she doesn't know. Many times, attachments are how malware and spyware gets installed on your computer. This one is critical.
She's comfortable with you monitoring her email use. As a parent, you have the right to see what your child is doing online – in fact, you really should monitor your child. It's a dangerous world out there and your child is bound to make mistakes. Better to know right away before it turns into a full-blown catastrophe.
Let your child's email experience be fraud-free by discussing all these points up front. Email is a serious step toward adulthood, so you want to be sure she's ready and willing to take on the responsibility that comes with it.