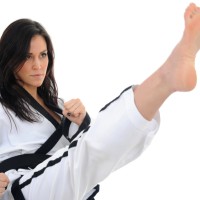 If it's not already, one of your biggest nightmares should be applying for a credit card one day only to get denied and then later find out that someone stole your identity and bought not one, but two cars in your name (and that they had the nerve not to ever pay the bill!)
In the fast-moving Information Age where laws and technology are constantly changing, the best way to ensure your – and your children's – identities don't get stolen is to be proactive: ninja, if you will.
Here's how to do that:
Look for easy-to-read information about privacy policies provided by the company you're about to do business with.

Share only the information that is really needed to get what you need—not just what is asked of you. For instance, question any company that is asking you for your Social Security number. Is it really necessary?

Don't be fooled or tricked into thinking that some secret technology will protect your information with fancy computers. There are far too few who have invested as much in this area as you would expect.


Exercise your power. Shop with online stores and services that have signs of a plan to protect data. These signs include:
Cl

ear and open policies that are easy to find,

A named person in charge of Data Privacy & Security,

A way to communicate with that company,

A street address to send inquiries,

"https://" at the beginning of a web page that asks for your data,

Passwords required to get into your account that never ask for goofy stuff – like a bank account routing or Social Security Number as part of the log in.
Develop some basic security Spidey sense. Don't be afraid to throw around some geeky jargon. (See "Geeky Jargon for Smart Moms and Dads.")
Be alert

for things that may not make sense to you and ASK QUESTIONS. You are just as smart about your data as any company or government.
Get smart. Find your voice. Protect your family.
***
Michelle Dennedy was America's first Chief Privacy Officer, for Sun Microsystems. When Michelle's own daughter's identity was attacked, she vowed that she would never let it happen again. Michelle is now the Editor-in-Chief of The Identity Project, which is sponsored by AllClearID. AllClearID will monitor your child's identity, notify you securely if it has been compromised, and repair and restore it – at no cost to you.