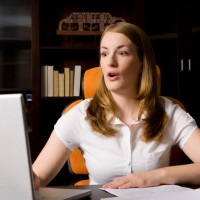 We all want things. We want convenience, speed, fun. We want a social life. We want to get our work done. We also want for our families:  we want them to be safe, well educated and healthy.
When it comes to being consumers – whether we're buying a TV at a store, a pair of shoes or even a book online – most of us believe that the companies we buy things from are doing all that they can to protect our personal information like email, phone or street address.
But, sometimes wanting and believing are just not enough.
Here are some of the things that many of you believe are happening behind the scenes with your personal data:
Myth #1
All data we enter in an online purchase is encrypted – therefore it is safe.
Truth:
While encryption is one of many ways that companies and governments protect data, many organizations have not spent the money or hired the right people to encrypt information they store.
Do NOT expect that your information will be automatically protected. Share with caution. Limit the data you give and think carefully before you choose cheap and anonymous over something that may take a second or two longer to sign into, but which may provide a higher level of safety.
Myth #2
There are rules and laws that govern how organizations share information about you and your family, which give you the right to choose who gets to see what.
Truth:  
There is no set standard that helps organizations satisfy all of its customers' levels of comfort with sharing information. Privacy is subjective, meaning that what you consider private differs greatly from what your teenager considers private.
The good news is that you – the consumer – have a lot more power than you think you do to tell organizations what you would like to happen to your data. If you can, take the time to read through the privacy policy of your favorite website and see what they tell you about how they handle your data. Leave comments or use the 'Contact Us' link or form to let them know if you are confused or don't like what they are doing.
Every company may not be able to customize what they are doing for you, but you will at least be better informed about what is going on behind the scenes at the game site, social network, or the tax prep services your family uses.
Myth #3
Children's information is always treated as carefully as we treat the actual children themselves.
Truth:
There are some companies that specifically cater to children and must follow a special law in the United States called COPPA (the Children's Online Privacy Protection Act). That law is not perfect, but it does offer some guidance for companies and organizations. However, keep in mind that ID thieves can take tiny bits of your data – like your child's Social Security number – and combine it with an adult birth date to create a whole new adult identity in the online world.
The bottom line
When it comes to protecting our families' privacy, we must add a little layer of caution on top of our list of wants and beliefs. We must be aware of how valuable the information about ourselves and our children is to both business and bad guys and be picky about businesses we transact with.
Want to learn how to get smarter with your own data? Read our next post, "6 Ways to Protect Your Privacy and Personal Data Like a True Ninja."
***
Michelle Dennedy was America's first Chief Privacy Officer, for Sun Microsystems. When Michelle's own daughter's identity was attacked, she vowed that she would never let it happen again. Michelle is now the Editor-in-Chief of The Identity Project, which is sponsored by AllClearID. AllClearID will monitor your child's identity, notify you securely if it has been compromised, and repair and restore it – at no cost to you.