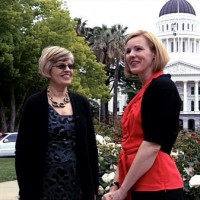 Chief, California Officer of  Privacy Protection, Joanne McNabb interviewed by Michelle Finneran Dennedy
[vsw id="23629246" source="vimeo" width="575" height="450" autoplay="no"]
Transcript of Video:
Michelle Dennedy:  Thank you, to our first inaugural, the Identity Project interview. With me is Joanne McNabb, the Chief of the California Office of Privacy Protection. First of all, thank you, Joann, so much for agreeing to this interview.
Joanne McNabb:  You're welcome. I'm pleased to help.
Michelle Dennedy:  What was the origin and the impetus of this office because you were the first in the country? There really were no train tracks laid down. How did this all come about? And why you and how did you get here? [laughter]
Joanne McNabb:  Well, the office was created by legislation. It was in the state legislature in 2000 and they passed a bill that created the Office of Privacy Protection. The one thing that we've seen growing is lot more concerns about online privacy.
Michelle Dennedy:  Interesting.
Joanne McNabb:  People concerned about what kind of information of theirs is available to others online, concerned about how their information is collected online, organizations concerned about how they should be disclosing their online practices in writing their privacy policies that they post on their website. So then what happens to people's privacy concerns is strongly influenced by technological developments.
Michelle Dennedy:  Absolutely.
Joanne McNabb:  So you have to keep learning. It's not like you have this set of rules and you just keep applying them over and over again.
Michelle Dennedy:  Yes.
Joanne McNabb:  I think an interesting thing about privacy is it's not really a partisan issue. But there's a lot in common. There's a lot of recognition on the whole political spectrum that privacy is an important value to our democracy and it's one that we need to keep working on.
Interviewer:  Absolutely.