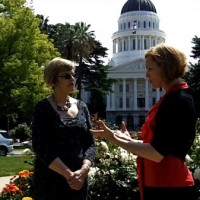 Chief, California Officer of  Privacy Protection, Joanne McNabb interviewed by Michelle Finneran Dennedy
[vsw id="23629749" source="vimeo" width="575"  height= "450" autoplay="no"]
Video Transcript:
Michelle Dennedy: In general, when you're hearing consumer complaints coming into your office, are you seeing an incidence of childhood identity theft?
Joanne McNabb: The way that we have usually found out about it is somebody who is applying for some kind of a government benefit that is means based and they will be told by the county, for example, "Oh, well little Bobby there, in the stroller, has income that makes you ineligible."
And they can see, "Mmm, it doesn't like little Bobby has done a lot of work yet." But now they know that something's going on in little Bobby's name. So that's where we come in and try to help them. One of the many challenges in dealing with child identity theft is the standard procedures that an adult uses to pull a credit report to dispute or correct any errors will not work for a child because the credit reporting agencies don't knowingly create files on minors.
So just finding out whether a child has records associated with them requires something outside the normal procedure.
Michelle Dennedy: Right.
Joanne McNabb: So what did you have to do?
Michelle Dennedy: We weren't getting pre‑approved credit at the house.
Joanne McNabb: Right. Which could be a sign.
Michelle Dennedy: Which could be a sign. And indeed, when I went to the credit agencies based on the information that the AllClear people did to scan all of these other databases, they don't do that type of search because there's not her name, her birth date, her social security number.
The good news about that service is it is free.
Joanne McNabb: I would really like to see the credit reporting agencies making it easier for everyone to be able to get a real check of their children's credit. What they will do is you have to write individual letters. You don't go online and just punch stuff in like you can do for your own.
You write a letter. You provide a whole bunch of documentation like a copy of the birth certificate, your driver's license, and all that. And you ask them to do a check on the identity and a check on the social security number.
Michelle Dennedy: A lot of parents who are concerned have run an annual credit report on their kids. But of course it came back empty.
Joanne McNabb: Yeah, it says "file not found." It's like, "Oh good. I'm fine." That isn't necessarily true.
Michelle Dennedy: Yes.
Joanne McNabb: The group that has the highest incidence according to the most recent surveys are the people you would expect, the 25‑34 who are out there in the marketplace. But the group that pays the most are the younger, 18‑24. There's been some concern about how careful creditors are in identifying people before they give them credit. So there's some responsibility on that end as well.
Michelle Dennedy: Absolutely.
Joanne McNabb: We're just beginning, from the Carnegie Mellon study, that's the first really significant scientific study of the incidence of child identity theft because all of our knowledge from the big consumer surveys that are done, which are very respectable, but they don't deal with children.
Michelle Dennedy: And they're surveys.
Joanne McNabb: It's adults and they're consumer surveys rather than an analysis of data. I'm hoping that out of that study and the findings from our pilot project on foster youth identity theft that there will be some proposals for changes that the credit reporting agencies might make. Potentially some regulatory changes. The Federal Trade Commission is holding a forum on child identity theft this summer. They're very interested in looking at this.
So I'm happy that so many people are…